Not Just Safe Comic Book Frames, Safe Comic Book Rooms Too!
So you want to get your comic books out of the box and display them, Great!
-But what about fading from sunlight?
-If I hang a comic book on a wall will it get ruined, or is it all hype?
-Can I protect my comic books while on display?
-Do the CGC or CBCS cases protect the comic inside against UV fading?
Well you will get answers to all of these questions and more in this article, then you can make your own decision on if and how you may want to display your prized possessions!
First and foremost comic books, art, photographs or any other paper based printed material can be damaged over time due to prolonged or extreme exposure to both natural and man-made light as well as climate conditions. Damage such as fading colors, yellowing of paper, staining or foxing, paper becoming brittle and oxidation or breakdown of paper fibers are all possibilities.
Now before you go sealing all of your comic books in Mylar sleeves and burying them in a climate controlled room with zero lighting of any kind I want to assure you there are very practical measures you can take to safely frame a comic book and hang it on your wall without it fading into a newspaper or bursting into flames.
Creating A Room That is Safe for Comic Books
First let's look at the room you want to display your prized possessions in, large windows with direct sunlight will damage your collection faster than your inquisitive 2 year old! Blinds or curtains work wonders in knocking down most of the intruding light but if you want to take an extra step of precaution or you do not want to keep the blinds closed all the time you can purchase clear or tinted window film that applies to your homes windows that will block 98% of damaging UV rays from passing through, this also helps make your home more energy efficient and comfortable.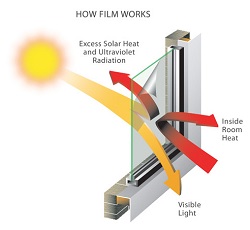 The next step in protecting your displayed books from light damage is to replace the light bulbs in that room with LED lights. Although significantly less than natural sunlight, both incandescent and fluorescent light bulbs emit UV rays in the light spectrum that is damaging to your comics. LED lighting on the other hand emits very little, almost no damaging UV light, and it will save on your energy bills as well! I have replaced just about every bulb in my entire home with LED bulbs, over the last several years the cost of the bulbs have come down significantly making them much more justifiable in my opinion compared to standard incandescent bulbs.
Personally, I do not have UV film applied to the windows in my home office (yet) but I do have LED lighting in the room. I still use Museum Edition Frames with UV safe acrylic for all the comic books on the walls just for the extra protection as well. My office and other walls at the shop where comic books and art are on display have no windows but do have fluorescent light bulbs so I use frames with UV protection in these areas as well. Also I tend to rotate the comics in the frames every few months or so just because there is always new books I want to display, so many great covers and artists it is never ending! Doing this also keeps any of my books from being exposed to the elements for long periods of time as well.
So, we have lighting covered, now let's look at where your room is located in your house, and more specifically, what is the average year round climate of that room.

Basements seem to be at the top of the list when it comes to where our man caves and nerd rooms reside
and for lighting reasons this can be beneficial as there tends to be smaller windows or less intrusive light in basements.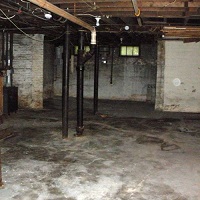 However, when it comes to climate and air quality they may not be such great places. A basement that is completely finished with flooring, insulated walls and ceilings and is controlled with the homes heating and cooling system is ideal, essentially this is like any other room in your home. This keeps the air moderately the same year round both temperature wise and humidity wise and that is what you want for your books.

Unfinished basements with concrete walls and floors are definitely not ideal, but if this is what you have to deal with just do your best to keep the area dry. Having your homes HVAC system controlling the temperature or dehumidifiers help but adding insulated walls, flooring and finished ceiling will greatly improve the areas moderate conditions, also improving the preservation of your comic books and other collectibles.
Another type of damage will result from temperature fluctuation, the fibers in paper and cardboard to expand and shrink, when this happens you get waviness in the sheet. Ever notice the wavy covers on some comic books sitting on the shelves that were just released? This is what has happened, sometimes they come right out of the box from the printer this way, because the paper has experienced a lot of temperature fluctuation from the time it was stored, printed, bound, shipped to the distributor and then to the stores where you purchased it.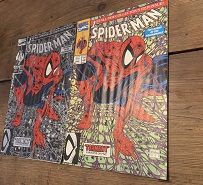 Now imagine putting your comic books through this scenario
every season of every year and they will look like this in no time!








Frame a Comic Book with Safety in Mind
Now that we have discussed what we can do to make the rooms and environment better for our collectibles let's talk about the displays themselves. Personally I would always recommend using an actual display designed for comics.

The best frame for comic books will always be a frame made for comics, I would never suggest using a standard photo or document frame to display your comic books. Most importantly you do not want the plastic from those frames touching your book, you never know what the plastic is made of or if it contains chemicals that may damage the book over time.
This also is true if the frame has a cardboard back, acids and chemicals from manufacturing can reside in these paper fibers just as easily, accelerating the breakdown of the fibers in your comic book. Here is a very real scenario, imagine if you displayed your comic book in one of those cheap plastic frames for a few months and decide to change out the book only to find the book is now stuck to the plastic!
As a collector myself I often feel that I would rather spend my money on more books rather than expensive comics frames or displays for them so I understand that cost can be an issue and you can go to Walmart or Ikea or Michaels and get some cheap plastic frame for five dollars. Just know that you also do not need to go to a art framing shop and pay one or two hundred dollars to get a custom frame made, but if you did it would like be very high quality and do a great job at protecting your comic while it hangs on your wall.
These days there are some great options out there for framing comics, good quality frames made specifically for comic books, from materials that will not harm your book and come with UV protection, click on this link to see where you can buy some like this, just do a little research and chose the one that suits your particular needs the most.
So what if you want to display large format comic books such as the Treasury Editions or early Teenage Mutant Ninja Turtles from 1984/85, or even some of the Eerie, Creepy or Mad Magazines? Due to the size and thickness of those books make it more difficult to find a frame, especially one that will protect the book with archival materials and UV protection without spending a paycheck at a custom framing shop, unless you know where to look!
CGC and CBCS Graded Comic Books
Now what about graded comic books such as CGC and CBCS? One bonus is that the comic book is sealed inside using archival quality materials that are safe to be in contact with your comic book for long periods of time, PERFECT! But, there is no UV protection, let me state this point again, CGC and CBCS graded comic book cases have NO UV PROTECTION!
Over the years I have seen this question asked over and over again, which is fine, but the scary part is many times I see replies from people stating that they are in fact designed with UV protection built in... this is not true! Do you want to know how I know it is not true? I asked them! In fact they are quite adamant in their reply as they do not want any of their customers to believe they are UV safe or protect the comics sealed inside from UV damage in any way.
So, with all that being said finding a way to safely frame a comic book that is graded is easier in the way that it is sealed and protected from the elements of the air but you do still want to be aware of the possibility of UV light damage. The size and shape of the case may cause some issues in finding a frame or display as you are not going to find many options on the cheap but again there are some very high quality yet affordable frames for graded comic books that look great, protect your slab and have UV protection.
In the end, take pride in your collection and display them in which ever manner fits your specific situation.
Be aware of what can happen to your comics while on display, that is what matters most. I have spent the last decade of my life in the framing and display part of this awesome industry and if I can use my knowledge and experience to help fellow collectors decide whether or not they want to put their books on display based on real education then I feel I am doing my job.
Display Safe!