Should I Frame a Comic Book and Hang it on a Wall? Stand it on a Shelf? Or Just Leave it in a Box?

Comic books carry a special place in our hearts for many different reasons, not a single reason is right or wrong, but each reason is our own. Storylines, artwork, investments, a way to escape, or maybe you are talented enough to make it your job, no matter what the reason is we are compelled, religiously, to own them! So once we get them what do we do with them? Read them (carefully), then bag and board them and shove them in a box forever…wait, what! Not Me!
For me comic books started off as simply a collectible item, just like my sports cards, hot wheels, old toys, beer signs, model cars…well you get the idea. But as I grew more into the hobby I found myself being attracted to the amazing artwork, from the classic styles that seemed to express the action of the scene so perfectly to the intricate detail and realism of some of today's' masterpieces, I wanted them all!
Now with all these truly amazing pieces of art that have been published for the last 80 years or longer, the thought of obtaining them and then just packing them in a box, to me, was depressing. I wanted to continue to admire these masterpieces, I wanted to look at them and appreciate the time and detail that some of these legends of the industry put to paper. I WANTED TO DISPLAY MY COMIC BOOKS! Now I know that short little statement causes all kinds of emotions and mixed feelings and even disgust by some, but like I first said at the top of this article, " Comic books carry a special place in our hearts for many different reasons, not a single reason is right or wrong, but each reason is our own ". And the choice to display those books is also our own, my thought is if museums are willing to put priceless paintings and photographs on display for everyone to enjoy, well then I am content with safely displaying my comic books in my home and office.
Now here is where the fun part comes in, how do we actually decide to display our comic books!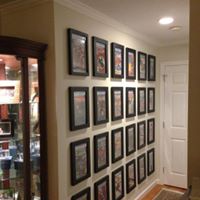 Over the years I have seen some truly AWESOME setups, nerd rooms and comic caves simply packed with comics, toys and statues, man caves with a nice bar, pool table and random framed comics and movie posters highlighting the walls. Even kids' bedrooms and toy rooms decorated in super hero art and comics hung on the walls. Then there is the simple and classy looking hallway or accent wall in a home with just a select few comics on the wall along with a couple pieces of original art.
As I write this I am sitting in my home office that has a couple book shelves with a nice hard cover collection a few trades and some statues on top. Two small display cases with some nicer statues in them, nothing overly filled, well not yet anyways! The walls are decorated with various styles of comic book frames, one wall has a nice grid pattern of 12 Graded Comic Books all in frames made specifically for CGC and CBCS graded comics. The wall in front of my desk has a row of seven evenly spaced comic book frames holding some of my favorite Lady Death covers with a large custom Bat-Frame soaring above them and displaying three Signature Series Graded New 52 Batman Comics. The wall in front of my wife's desk has a Custom Superman Logo shaped frame holding an Action Comics #1 (reprint of Course) above a row of three single frames with some Silver Age Wonder Woman books in them.
Now as I said I do love to admire the art on the books but I am also a collector and although I realize I am putting these books at risk by displaying them, I am using quality frames and displays to help protect them while on display. All of the comic books are well protected in UV Safe Frames, the room is lit with LED light bulbs and the blinds on the windows are normally always closed.
Personally I prefer a clean looking setup with the walls and shelves being filled, but neatly filled. Rows and columns of frames on the walls and all of the frames having the same look and feel, aesthetics to me is important. But don't get me wrong, there is something just awesome and jaw dropping about seeing a room just packed with pop culture! The walls littered with comic books in top-loaders, pinned to the wall with thumbtacks, prints and framed art, seemingly with not an inch to spare yet still somehow there are scattered packaged action figures hanging by thumbtacks in between. Shelves over loaded with books, statues, toys, vinyls and convention swag. A coffee table in the middle of the room, Mod-Podged in the pages of the comics that paid the ultimate price, and stacks of long and short boxes piled high in every corner! And let's not forget the life sized super hero standup that came from the local movie theater. Honestly now that I really think about it, I will likely end up having a room like that once my kids move out and I have the space to get my collections out of their cardboard coffins, but I will still also need my nice aesthetically appealing office.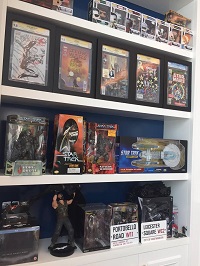 Some unique displays I have admired are when a statue and the comic book depicting the artwork that the statue was inspired by is sitting with it. Usually the comic is just leaning against the back of the shelf or in one of those book stands but some get creative and have specially made bases that hold the comic upright. Even recently I came across a picture of a display that had two Fantastic Four comic books as a backdrop and the base was made to look like rock with Hulk and Thing action figures standing on the rock base squaring off in front of the comics, now that is a way to display your comic books and action figures!
I am not personally into one particular character enough to have the ability to put a full themed display or entire character focused collection together but that does not mean there are some amazing themed displays setups out there! I belong to some facebook groups centered on certain characters like Batman or Spider-man or teams like the Teenage Mutant Ninja Turtles or X-Men, and there are some members in those groups that have shown off their themed collections and it is just amazing. The sheer volume of collectibles that these men and women have acquired is astounding and the rooms that they have put together to display all their items are simply breathtaking.
What all of these various display ideas have in common and to me the truly awesome part about any of these rooms or displays or fully decked out closets if that is all you have room for, is that they are there because we the owners want to admire and appreciate our collections. Sure they may be exposed to some UV rays that can fade colors and temperatures that may affect the cardboard and plastic, but we buy these things because we love them, because we are drawn to them for whatever reason. And that does not mean that we shouldn't take precautions to help shield our collections from those harmful elements but it definitely should not mean that we have to buy these things just to lock them in a temperature controlled, humidity balanced vault wearing night vision goggles to see them because we cannot turn on a light around them.
Here is another scenario to consider, maybe a little dark but meant to be humorous(sort of), but in the end inevitable either way. We spend our lives acquiring all of these great pieces that we are so proud of,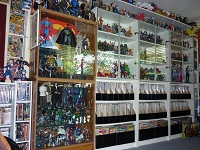 never really enjoying them because they are always locked away in boxes to protect them from everything we are told to fear. Then that one day comes when we finally get so pissed about how they are inaccurately portraying our favorite character in the latest movie that we finally have that fatal grabber, just so that our spouse or our children and can bring everything we were so meticulous about to the nearest comic shop and tell the owner that they just want it out of their basement! Then they take the money and go pay their high electric bill from charging their Smart Car.
The lesson here should be if you want to display and enjoy your comics and collectibles do it, just be smart about it and know what your options are to keep them protected while you are enjoying them. You don't have to listen to the doom and gloom keyboard commando's making you believe they will burst into flames like a vampire caught in the sunrise the second you pull it out of the box. Rather enjoy and appreciate these amazing works of art for what they are, and for what the artists and writers brought to life from nothing. There is a reason we buy these books each and every week, and whatever each of our own reason is we should be able to remind ourselves of that reason every time we look at that particular piece proudly displayed on our shelf or wall!