Choosing the Perfect Frame Size for Your Comics or Magazines
These days you can find several different options when it comes to frames for comics so it really comes down to the specific comic book you are looking to display. In this article I will discuss a few different book options and the corresponding frame size.
1)Frame for Modern Age Comics
2)Frame for Silver Age Comics
3)Frame for thick comics with 60+ pages
4)Frame for Golden Age Comic Books
5)Frame for Large format comic Books and Treasury Edition Comics
6)Steps to position, mount and secure your comic in the frame
Watch for my other articles if you are looking to Frame a Graded Comic Book, Frame a Connecting Cover Comic Book Set, Frame a Magazine or Frame a Print or Original Art
1,2) Frame a Modern Age Comic Book
With these Single Book Frames they are actually designed to fit Silver Age Comics to Modern Age Comics so really this part pertains to both points up top referring to a Frame for Modern Age Comic Books and a Frame for Silver Age Comic Books. From Silver age to Modern we do not usually get too much variation in size and the variation that we do see is pretty much always in the width of the book and not the height, most comics from Silver age to now are 10.125" in height. Most Modern age books are 6.625"-6.75" wide and Silver age will be 6.75" up to 7". Now I say "most" in these measurements because even today some books, especially from smaller press publishers can vary that .125"+.
Silver Age and Modern Age comic in same style frame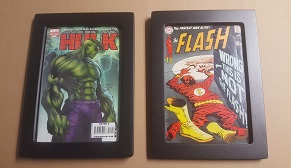 So for the Single Comic Frame the front window opening of the frame is 10.125" tall by 6.8" wide, and this dimension was taken under serious consideration due to the fluctuation in book sizes from Silver to Modern.
But with these dimensions we felt all of the book will be fully visible on most Silver Age books, and as for the smaller Bronze and Modern Age books well once they are mounted in the frame you really cannot see that the book is smaller due to the black frame and black backer board behind the book. This all sort of meshes together behind the acrylic, thus keeping us from having to produce another size frame(or frames) to accommodate each particular size, which would also cause more confusion when ordering and higher costs for us to produce and in turn you to purchase in the end.


3) Thick Comics with 80 or More Pages
Now the thickness of a comic book, as determined by the page count is another factor to take into consideration.The Single Book Frame is designed to work best for comic books with up to 64-68 pages, anything more than that and it causes the backer board to stick out the back side of the frame making it unsightly (even though it is the back of the frame) and just not pleasant when adjusting the screws and tabs holding the book into place.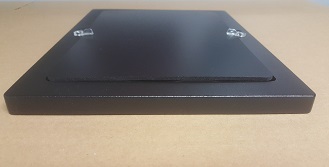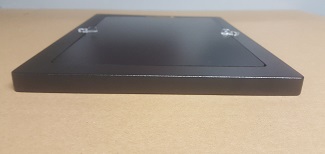 48 Page Comic Book in Frame 96 Page Comic Book in Frame

Now if you do have a thicker, square bound book (that is still standard Modern Age Height and width) we can make a simple modification to the frame that will allow your book to fit nicely in the frame, so all we ask is that you note the need for a deeper pocket when ordering. When we see this note we route the pocket of the frame just a little deeper to accommodate the added thickness, we do not charge any more for this it is simply a way for us to remedy a situation making it easier on you to get a comic book frame that is just right for your particular situation!
Comic Book and Magazine Size Chart Based on Year
| | | | |
| --- | --- | --- | --- |
| Book Type | Years Published | Height(in.) | Width(in.) |
| Platinum Age | 1897-1937 | 10.5" | 7.5" |
| Golden Age | 1938-1956 | 10.25+/-.125" | 7.25+/-.125" |
| Silver Age | 1956-1970 | 10.125" | 6.75-7" |
| Bronze Age | 1970-1985 | 10.125" | 6.625" |
| Modern Age | 1985-Current | 10.125" | 6.625" |
| Comic Magazines | 1960-? | 11"+/- | 8.25"+/- |
| Treasury Size | 1970-1981 | 13.25" | 10.25" |
| Magazine | Various | 10.875-11" | 8.375"+/- |
4) Frame a Golden Age Comic Book
Getting into Golden Age Comics, which are comics produced through the years of 1938-1956, there were really no standards or regulations for books so we see many height, width and thickness variations. Cheap quality papers and inks were also widely used which is the reason we see much more deterioration, yellowing and brittleness among the pages of those books.
1950 and 1951 books nearly
½" difference in size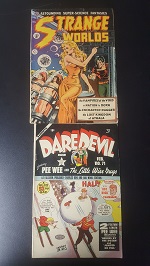 Same Golden Age Book in Correct Frames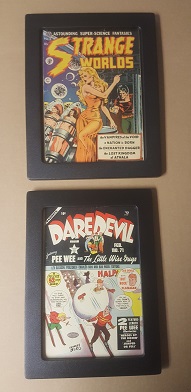 Here again I will use the word "most" as most golden age comic books are 7.25-7.375" wide and 10.25" tall however a fair amount of them are as small as 6.75" wide.
To accommodate most of the golden age size books we offer the Golden Age Comic Book Frame which has a front window opening of 7.5" wide by 10.125" tall.
Although we suggest measuring your golden age comic book first to determine if your book would best fit in a Golden Age Size frame or the Single Comic Frame if your book happens to be one of the less common narrower size books.
5) Frame a Large Format Comic or Treasury Edition Comic book
This is why our 2Book Connecting Cover frame is such a popular frame, it's versatility to not only hold two comic books side by side(or opened to show front and back covers) but it will hold any large format comic books all the way up to the ever popular Treasury Edition size comics produced by Marvel and DC in the early to mid 70's to the early 80's.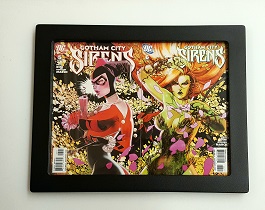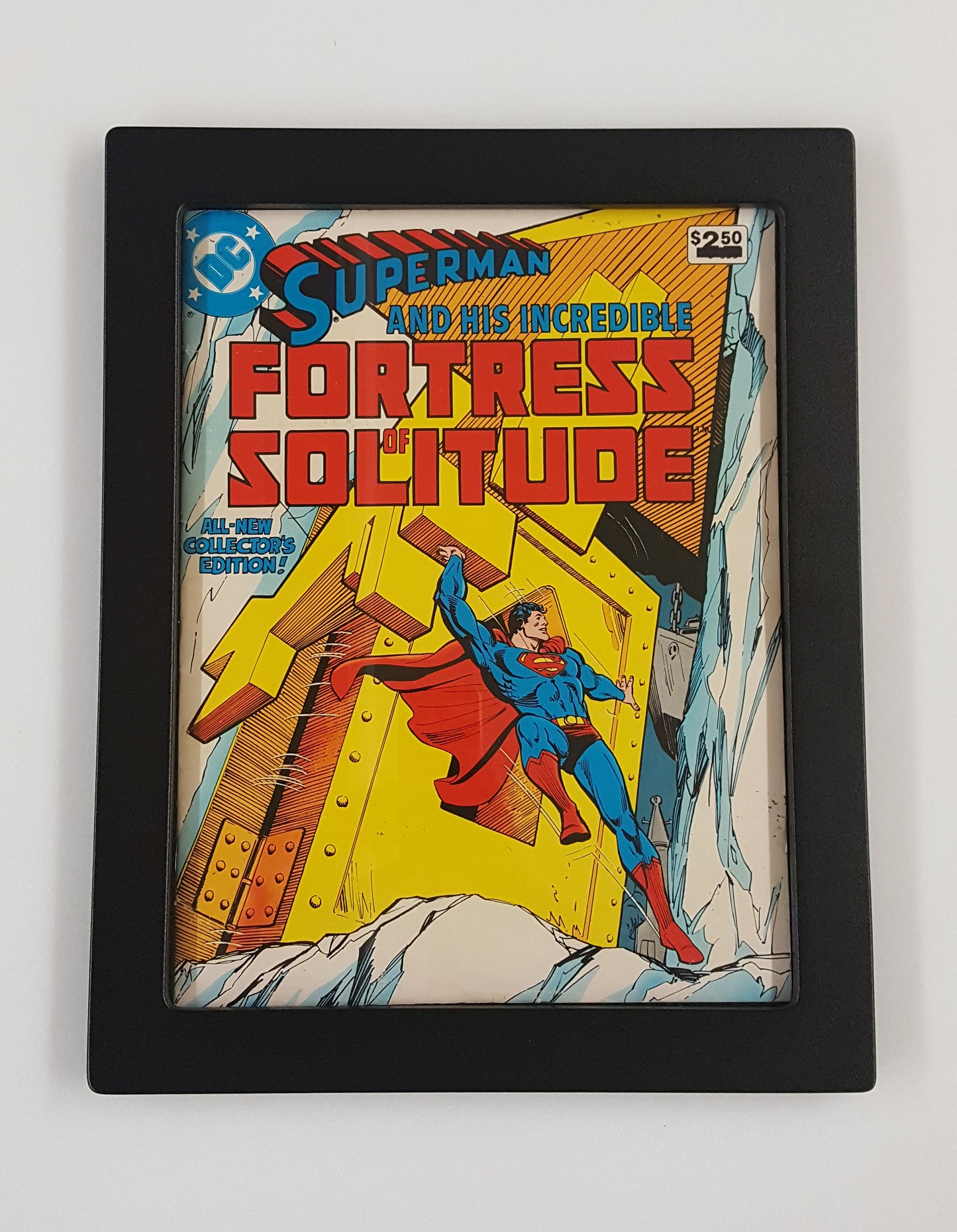 We added integrated keyhole slots in the back of this frame to allow it to be hung either horizontally or vertically to accommodate your specific needs of this awesome comic book frame. The front window opening of the frame is 10.125" by 13.875" which is a perfect fit for two comics books side by side, horizontally or a Treasury size book, vertically.And say you have another large format comic book like the early TMNT comic books from Mirage or any of the Eerie, Creepy or Conan Comics from the 1970's. Or what about Heavy Metal, Mad, Sports Illustrated or just about any other magazine? -They all have a very comfortable home in one of the 2Book Connecting Cover Frames.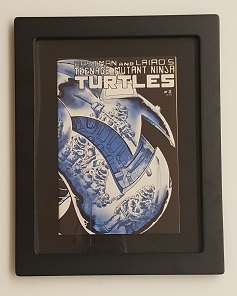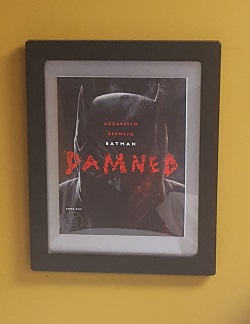 When you do frame a comic book in one of these frames that is large format but not quite enough to fill the entire 10" by 14" window, centering the book in the window of the frame gives it a nice look with the black backer surrounding the book.
And if you really want to get creative adding a colored sheet of paper behind the book can really highlight it and give a really unique dimension to the cover.




6) Mounting a Comic in a Frame
Every frame comes with everything you need to safely, securely mount and display your book including:
1)Wood Frame
2)Clear Acrylic Front (UV Safe or Standard)
3)Black Backer
4)Adjustable Hold-Down Tabs
5)Integrated Keyhole Slot for hanging
All you need is a comic book and a screw or nail in your wall!
Mounting your book inside the frame is very simple, start by removing the acrylic and backer from the frame and lay the frame face down on a table. First you will need to peel the protective film off the acrylic front, if you ordered a frame with the standard acrylic front the protective film will likely be a blue plastic film on both the front and back side. This peels quite easily, simply rub your finger across one of the rounded corners and the film should start to peel away from the face, remove both sides while trying not to touch the face (clean hands help here), fingerprints and small dust particles attract quite easily to the acrylic.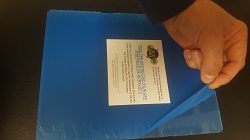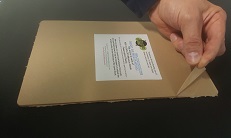 Blue Plastic Film on Standard Acrylic Brown Paper Film on UV Safe Acrylic
Now if you ordered the UV Safe Museum Edition version of the frame the acrylic front will be covered in a brown paper film, no this is not a piece of cardboard so don't throw it away then call us and say your frame didn't come with one (it has happened…many times). This film will be a little more difficult to peel off but take your time, get a corner started and peel slowly, if you just try to rip it off you will only get small little pieces at a time, get very angry and may end up using it as a frisbee… I mean I have never done that but I have heard…some people have…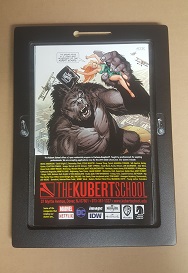 So once you get the acrylic peeled place it in the pocket of the frame, which should be face down on a table.Take your comic book(no bag and board necessary), and lay it over the acrylic, face down in the frame. Here you can center the book in the pocket of the frame, making sure it is not crooked or off to one side too much.
Next place the black backer over the comic book and swivel the hold down tabs over the backer. If the tabs are too loose or too tight to swivel over the backer use a phillips head screwdriver (not a drill!) and turn the screws in or out just slightly until you get a nice snug hold. They do not need to be overly tight as the book will stay in place with just a very slight amount of pressure but do not leave the tabs so loose that they will not stay in place because then the comic will likely slide around in the frame pocket.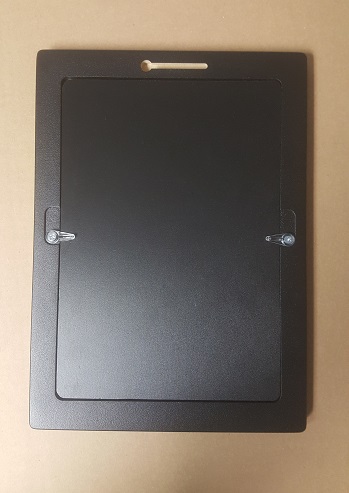 Now flip the frame over and check to see if the book is centered nicely and positioned the way you want it to be, if not simply lay the frame face down again, remove the backer, reposition the book, replace the backer and your all set!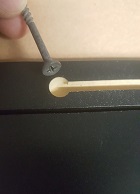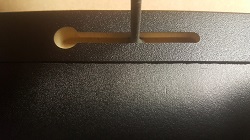 The integrated keyhole slot routed into the back of the frame is designed in a way to make hanging the frame more secure. You will see a round hole with a slot, this is made so the head of a screw or nail fits into the hole then when you slide it over it will not let the frame simply pull off the head of the screw or nail.
This design also makes it easy to level the frame on the wall, you simply slide it one way or the other on the screw or nail until it hangs straight and level.
Now all that is left is to find the spot on your wall that you want to display your newly framed comic book, insert your screw or nail into the wall, hang up your frame and enjoy!